Find out what Smart Ephys has to offer at the Society for Neuroscience Conference!

Smart Ephys combines the expertise and experience of three companies: HEKA, Multi Channel Systems, and Warner Instruments. We provide solutions for all areas of electrophysiology from one source. As a trusted partner in your laboratory, we look forward to finding the right solution to support your electrophysiological research.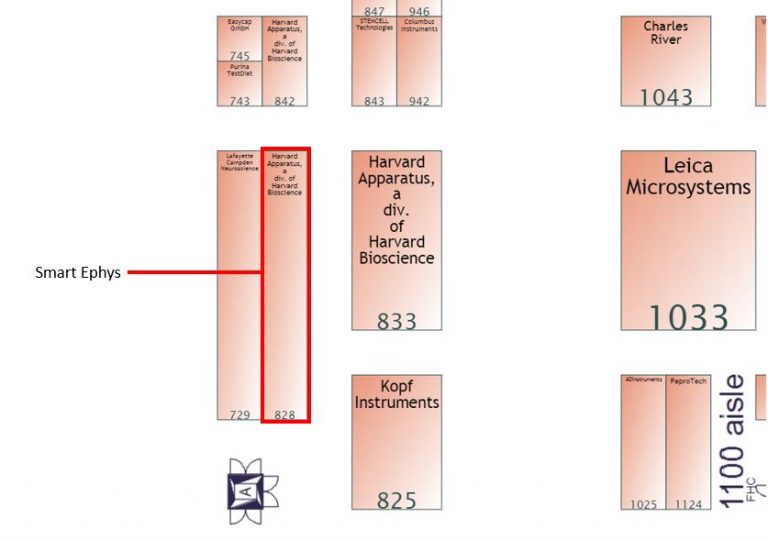 Booth #828 l Smart Ephys
Between Harvard Apparatus and DSI
Booth #842 l DSI
Visit for telemetry research, pulmonary solutions and more!
Booth #833 l Harvard Bioscience
Visit for behavioral research solutions and more!
What area of your research can we help you with?
A miniaturized in vitro recording system with state-of-the-art power. Take full advantage of the MCS IFB 3.0 platform features, in addition to the option for continued use of all headstages in an incubator. Easily upgradable from one to a maximum of eight headstages per system.
All-in-one, wireless in vivo system solution for amplifying, recording, and analyzing data from 4, 8, 16 or 32 channels. Includes lightweight headstages with options for optical or electrical stimulation for recordings in freely moving animals and synchronized video-to-data recording.
A complete, tethered in vivo recording system for anesthetized or head-fixed animals. This system includes built-in stimulation capability on software selectable electrodes, as well as real time closed loop stimulation. Easily upgradable from one to a maximum of eight headstages per system.
Let us customize your perfect patch clamp rig! Whether manual, automated or both, Smart Ephys can recommend a package tailored to you needs, making your experiments more efficient.
Automate your manual patch clamp setup by using PatchServer! This pipette-based automated patch clamp system combines advantages from the automatic and manual patch clamp approach and can establish whole-cell recording or excised patch configurations.
Cell Biology & Accessories
The Scanning Probe Microscope, ElProScan allows molecular imaging and sensing, such as detection of ROS/RNS or neurotransmitters and in-situ cellular imaging for high resolution cell morphology or combined SECM/SICM fluorescence imaging.
Warner Instruments provides a large variety of chambers from imaging and recording baths, to temperature and perfusion control.
The VCS-77 is a unique system that enables a user to rapidly select between several perfusion reservoirs, saving time and effort. The system is comprised of a Perfusion Fast Stepper (SF-77C) and a Mini Valve Control System (VCS).

The Smart Source for All Your Ephys Needs
Europe, Middle East, Africa